30 June 2022
Greenland: autonomy in the Arctic region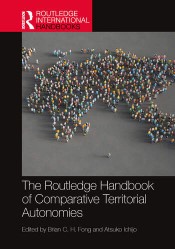 Professor Benedikte Brincker has contributed with the chapter 'Greenland: autonomy in the Arctic region' to 'The Routledge Handbook of Comparative Territorial Autonomies'.
The handbook affords a comprehensive, pioneering and interdisciplinary survey of its field bringing together a team of scholars who illuminates the latest thinking and scholarship on comparative territorial autonomies.
In her chapter, Benedikte Bricker explores territorial autonomies in the Arctic Region, focusing on the Realm of Denmark (Rigsfællesskabet).
In analysing this construction, the chapter takes a historical and conceptual approach and investigates especially the case of Greenland and the process it has gone through from colony to country and finally to self-rule. In doing this, the chapter sheds light upon indigeneity in Greenland, languages politics, executive-legislative politics, and global connectedness.
The handbook is edited by Brian C. H. Fong and Atsuko Ichijo.
Read more about the book: The Routledge Handbook of Comparative Territorial Autonomies