02 September 2013
Book chapter: "Happily working till they drop"
- When there is no longer a balance between stress and fun - a task for leadership?

Book Chapter by Associate Prof. Yvonne Due Billing, Department of Sociology, in "Critical Perspectives on Leadership", edited by Jeanette Lemmergaard and Sara Louise Muhr, Edward Elgar Publishing, 2013.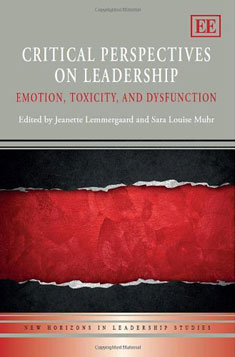 Missing balance between fun and stress
This chapter discusses organisational (over-)commitment and how a missing balance - i.e. a feeling of incapacity to control the context – between stress and fun can be dysfunctional as it leads to burnout. On the basis of a study of knowledge workers this chapter argues that leadership faces a problem if it is not attuned to the strains experienced in the organisation:


First, the chapter looks at the existence of tensions in relation to work and work-family.
Second, the studied organisation is presented with a focus on how the employees reacted to the tensions they experienced at work and how leadership seemed to be impotent to deal with these tensions.
Thirdly, the chapter closes with a discussion about the increasing difficulties of dealing with the missing balance between fun and stress.
A lack of feeling "in control"
For many of the employees the stakes are too high, they act against their own interests when they work till they drop. Although the employees have autonomy at work and are in control of their working hours they do not necessarily feel 'in control'. Feeling 'in control' is a precondition for feeling that there is a balance.

Prevention – a task for leaders
Leaders should be sensitive enough to be able to 'read' and understand the emotional state of employees. Together with employees, they should try to manage the apparent paradox that autonomy instead of leading to more freedom, may lead to over-commitment and self-entrapment, which in turn may lead to stress and burnout.

You can read more and purchase the publication at the website of the publisher.