13 December 2022
The Power of Morality in Movements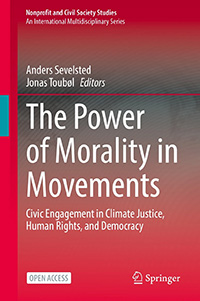 Associate Professor Jonas Toubøl has edited the open access anthology 'The Power of Morality in Movements – Civic Engagement in Climate Justice, Human Rights, and Democracy' in collaboration with Anders Sevelsted from Copenhagen Business School and Lund University. 
The book explores the role of morality in social movements. Morality has always been central to social movements in different forms. This is also evident in movements emerging from recent interlinked crises: the crisis of human rights, the climate crisis, and the developing crisis of democracy. In analysing these current events through a variety of theoretical, methodological, and empirical lenses, this book brings morality to the forefront of the discussion, allowing for a rethinking of its role.
The book is divided into five parts:
The first part introduces and explores the central concept of the book, outlining the dominant existing approaches to morality and ethics in the extant movement and civil society literature.
The following three parts investigate morality in relation to topics and movements that are either prominent to contemporary politics or salient to the question of morality. In these empirically informed parts, the authors apply a diverse selection of methods spanning fieldwork, historiography, traditional and novel statistical analytical methods, and big data analysis to a diverse selection of data. Topics discussed include refugee solidarity movements, male privilege and anti-feminism movements, environmental and climate justice movements, and religious activism.
The fifth and closing part of the book focuses on the more abstract theoretical question of the relationship between morality and ethics and activist practices and points to future research agendas.
This open access book is of general interest to students, scholars and academics within the disciplines of political sociology, political science and political anthropology and of particular interest to academics in the subfields of social movement and civil society studies.
Read more about the anthology on the website of the publisher, Springer Link: The Power of Morality in Movements – Civic Engagement in Climate Justice, Human Rights, and Democracy
The anthology is part of the book series: Nonprofit and Civil Society Studies
---
List of contributers:
Jeffrey Alexander, Yale University, New Haven, CT, USA
Nina Eliasoph, University of Southern California, Los Angeles, CA, USA
Eva Fernández G. G., Department of Political Science and International Relations, University of Geneva, Geneva, Switzerland
Peter Gundelach, University of Copenhagen, Copenhagen, Denmark
Sara Kalm, Department of Political Science, Lund University, Lund, Sweden
Troels Krarup, Technical University of Denmark—DTU, Copenhagen, Denmark
Jun Liu, Center for Tracking and Society & Department of Communication, University of Copenhagen, Copenhagen, Denmark
Doug McAdam, Stanford University, Palo Alto, CA, USA
Anna Meeuwisse, School of Social Work (Meeuwisse), Lund University, Lund, Sweden
Gian-Andrea Monsch, University of Lausanne, Lausanne, Switzerland
Gritt B. Nielsen, Danish School of Education, Aarhus University, Copenhagen, Denmark
Florence Passy, University of Lausanne, Lausanne, Switzerland
Anders Sevelsted, Department of Management, Politics, and Philosophy, Copenhagen Business School, Frederiksberg, Denmark School of Social Work, Lund University, Lund, Sweden
Eva Svatoňová, Aarhus University, Aarhus, Denmark
Jonas Toubøl, Department of Sociology, University of Copenhagen, Copenhagen, Denmark
Sophia Wathne, Scuola Normale Superiore, Pisa, Italy
Topics