31 May 2012
Article: "Transcended power of the state"
- the role of actors in Pierre Boudieu's sociology of the state


Article by Jens Arnholtz (FAOS) og Ole Hammerslev (Syddansk Universitet) in Scandinavian Journal of Social Theory, maj 2012.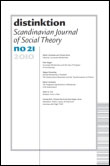 Pierre Bourdieu's writings on the state consist of a series of more or less coherent investigations approaching the state from different angles. His writings on the state may seem to contain internal ambiguities. On the one hand, they argue for an actor-centered approach to the state while, on the other hand, elaborating the power of the state as an institution transcending these actors.

The purpose of this article is to reconstruct Bourdieu's understanding of the state in order to examine if the opposition between these two apparently opposite approaches are in as sharp contention as they first appear.

The article starts out by discussing how Bourdieu has approached the state through his broader sociological approach and concepts. Afterwards it outlines the state formation processes lying at the foundation of the state's power. Next it focuses on his special emphasis on the actor strategies that lie behind the emergence of the bureaucratic field.

It moreover discusses Bourdieu's analysis of the abdication of the state in contemporary France. Having discussed the analytical potential of Bourdieusian studies of the state by focusing on the case of the European Union, the article concludes by arguing that Bourdieu's analysis is aimed at embracing the opposition between a focus on the state and on actors.

The transcended power of the state is established in the conflict between the interests of actors, but gradually acquires an autonomy that goes beyond these interests.

Read the full article at the website of the publisher.