14 February 2023
The Rise and Rise of Illegal Ticket Touting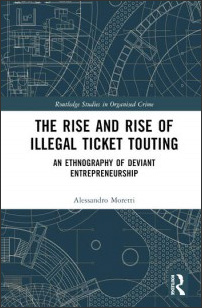 Postdoc Alessandro Moretti has come out with the monograph The Rise and Rise of Illegal Ticket Touting published by Routledge, which presents a study of contemporary ticket touts in the UK who sell tickets to concerts, football matches and other sporting or cultural events. A work he embarked on before his current employment at the UCPH where he is working for the Department of Sociology and affiliated with the Centre for Global Criminology located at the Department of Anthropology.
The book is based on extensive ethnographic studies among ticket touts shedding light on the world of touting and delivering a more authentic picture of the individuals involved, of their methods, values, and motivations for taking up an organised, entrepreneurial deviant activity.
It is Moretti's underlying premise that despite the recent interest in the topic of black-market ticket sales, media coverage and parliamentary interventions, the last ten years have revealed a widespread lack of knowledge regarding the phenomenon of touting, which has moved online to a large extent.
The Rise and Rise of Illegal Ticket Touting fills this knowledge gap by investigating touts' varied methods of buying and selling tickets, the hierarchical structures and strict ethos of their criminal organisations, and their strategies for evading detection and arrest. Furthermore, the book analyses the touts' attitudes, perceptions, and adaptations to society's legal and moral frameworks.
Finally, Alessandro Moretti illuminates why historic and renewed attempts to challenge ticket touting have been unsuccessful, focusing on inadequate legislation, a lack of enforcement, and the widespread corruption and exploitable loopholes that exist within the official ticket market. As Moretti concludes, the real problem is not the tickets that are sold on online platforms like Viagogo, but the corruption making it possible. "When a ticket is available for purchase on Viagogo the 'damage' has already been done," as he writes.
The book is part of the Routledge Studies in Organised Crime. Read more on the publisher's website: The Rise and Rise of Illegal Ticket Touting – An Ethnography of Deviant Entrepreneurship
Topics